Publisher:
Pumps & Systems
Date Published:
August, 2010
Analyzing the poor repairs on a boiler feed pump and how they affect the pump's performance and reliability.
It is often said that a picture is worth a thousand words. This old adage could not have been truer when a coal-fired power station received pictures from the inspection team at a service center. The plant had pulled a previously rebuilt Worthington boiler feed pump from storage and sent it to the service center for disassembly, inspection and reverse engineering. What the inspection team found was a number of repair defects uncovered from the previous repair process.
Because many repaired pumps initially go into storage as this one did, the consequences of a poorly rebuilt pump may not be revealed until several years later. The unfortunate results can range from reduced pump efficiency and shorter mean time between repair to catastrophic failure and unplanned outage. In this particular case, the repaired pump had been in storage and not been run since the repair was completed. It was therefore in its "as built" condition when it arrived at the service center. The photographs that follow illustrate a number of the defects that were uncovered and how they affect the performance and reliability of the pump.
Shaft
The bearing journal surfaces were not chrome-plated. Lack of chrome plating decreases the shaft and sleeve bearing life. Chrome plating reduces surface friction, reduces wear and helps to reduce contaminants in the oil from the shaft base material.
There was also lack of smooth radii at diameter transitions. Radii help reduce stress concentrations and help prevent shaft failures.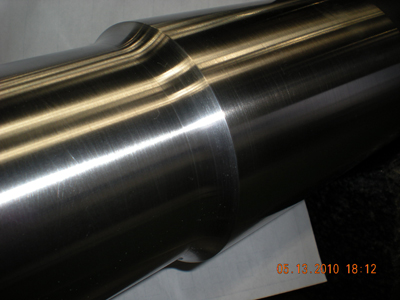 A newly manufactured shaft with the proper radius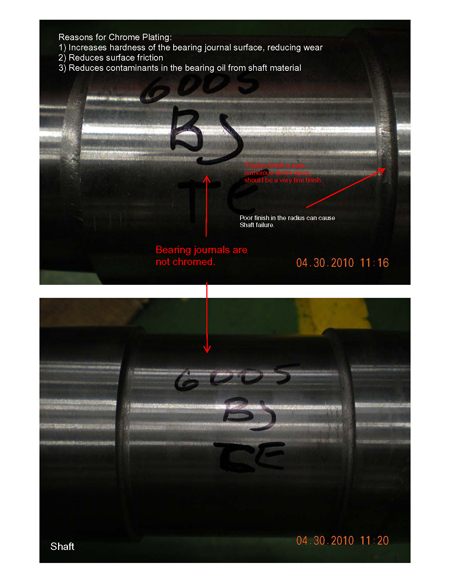 Bearing journals had not been chrome-plated in previous low quality repair.